Meet Our Experienced Veterinarians, Veterinary Technicians & Staff
Doctors
Pet Health Consultants
Veterinary Technicians
Doctors
Dr. Lisa McKinnon
Dr. Lisa McKinnon came to work for Burloak Animal Clinic in 2002. She graduated from the University of Guelph with a bachelor of science in zoology in 1991 and later went on to obtain her Doctor of Veterinary Medicine from the Ontario Veterinary College in 1999. She has a keen interest in avian and exotic medicine and has been working in this field of medicine in one form or another since 1990.
Outside of work, Dr. McKinnon enjoys sail boating and hiking with her family.
Dr. Patrick Garcia
Dr. Patrick Garcia has had a lifelong interest in animals and has been able to turn that love into a career, both as a wildlife biologist and a veterinarian. He is a western Canadian who attended the Universities of Calgary, Victoria, and Saskatchewan. Dr. Garcia has 20 years of experience working with animals, and this work has taken him to some of the most remote wilderness areas on the planet, including Madagascar, Uganda, Borneo, Mauritius, Mexico, and Tanzania, where he has extensive experience with a variety of wildlife and endangered species. Patrick has done more than 200 presentations to schools, senior homes, and community groups and is also involved in the Oakville Humane Society's "Kindness Club."
Dr. Garcia has a dog and some cats. Outside of work, he enjoys photography, being involved in public education, travel, and playing the guitar.
Dr. Candace Waters
Dr. Candace Waters is our newest veterinarian at Burloak Animal Clinic. She joined us in September 2010 and became full time in January 2011. Dr. Waters obtained a bachelor of science (honours) from the University of Guelph, specializing in zoology, in 1996. She went on to receive her DVM from OVC in 2002. After graduation, Dr. Waters worked in Toronto, Waterdown, and Mississauga before joining Burloak Animal Clinic. She has a special interest in surgery and dentistry and enjoys treating our furry patients.
Dr. Waters grew up in Burlington, but now lives with her husband, daughter, and three cats in Oakville. She enjoys outdoor activities such as camping, kayaking, hiking, and travel, as well as reading.
Dr. Wolfgang Zenker
Dr. Wolfgang Zenker established Burloak Animal Clinic in May 1970. He has always had an interest in avian and exotic medicine and can be frequently seen tending to our more exotic patients. Dr. Zenker graduated in 1966 from the University of Toronto with a bachelor of science in zoology and went on to receive his Doctor of Veterinary Medicine from the Ontario Veterinary College at Guelph University in 1970. He furthered his education by obtaining his master's in pathology from the University of Guelph in 1986 and an MBA from the University of Western Ontario in 1993.
Dr. Zenker has been an Oakville resident since the 1950s. When he finds time in his hectic schedule, he enjoys sail boating, scuba diving, and traveling to exotic locations.
Pet Health Consultants
Sandra De Young
Sandra graduated from McMaster University in 1997 and after a few years of searching for that "perfect job" she came to work at Burloak Animal Hospital in 1999. Oddly enough it was one of her sick lovebirds that brought her to Dr. Zenker's hospital and from that moment on she knew this was the place for her. Her love of animals of all kinds has kept her firmly rooted here and she cannot imagine being anywhere else.
Like many of her co-workers, she has a strong interest in exotic care and medicine, especially avian care. As a Pet Health Consultant, Sandra is one of the first faces to warmly greet you when you arrive and the last to see you go. Her main goals are to assist in educating our clients and patients with the knowledge she has acquired over the years and to provide a caring and compassionate atmosphere every moment of your visit.
When Sandra is not working, she spends her time at home and the cottage with her husband and two children. Sandra is a strong advocate for pet adoption and regularly supports local shelters through donation or adoption. Her ever expanding animal family currently includes Taffy the dog, Murphy the cat, Izzy the white capped pionus, Kenya the red bellied poicephalus and Lilo and Stitch the chinchillas.
Gail Smith
As a Pet Health Consultant since 2006 at Burloak, Gail delights in her daily interaction with clients and their pets. She is dedicated to assisting pet owners enjoy their furry, feathered and scaly family members, through promoting healthy lifestyles and practices.
Animals, regardless of size or species, have the unique ability to comfort, amaze and uplift humans of all ages, backgrounds and lifestyles. It amazes her how a pet can make us laugh and turn a sad day into a good day. For this reason, Gail has loved all animals for as long as she can remember and never tires of learning new things through many avenues including clinic endorsed continuing education seminars. It is through this love of animals that Gail feels a responsibility to partner with her clients to provide the best care possible for their special friends and spread the joy!
Gail's past life includes a Bachelor of Arts degree, office management, sales training and human resources. Her family pets lovingly include a 13 year old standard poodle, two bearded dragons, a leopard gecko, a turtle, fish and a horse.
"Until one has loved an animal, a part of one's soul remains unavailable." —Anatole France
Kandis Hall
Kandis Hall joined Burloak in 2006. She has been working with animals for more than 22 years. She has also worked as dog trainer for the last 10 years. She has three current dogs. Her oldest dog is a Bernese Mountain Dog named Buddy (OTCh Goldenbreez Mount Uriel Buddy DD CGN AGNJS AGNS RE Caro Rally RN-MCL RE-MCL, RA-MCL RV-MCL, CR-Bronze, Silver, Gold, Masters RNT WCFO Bronze Bar HWTM, MF- Novice and Beginner).
Buddy is a Canadian obedience champion, draft dog, canine good citizen, Masters Caro Rally Dog and has titles in Agility and Canine Freestyle. Wow! I think Buddy has more titles than our doctors! He was also the #5 BMD in Canada for obedience in 2006 + 2009, and number #3 in 2008. He also won Worlds in Canine freestyle in 2009 in Beg A division.
Her Sheltie, Flirt, is highly energetic and frequently assists Kandis in class. Flirt (Grandgables A Caribbean Flirt RAE1 CD RA CGN Caro RA-MCL WCFO freestyle Novice) has just begun her competitive career and enjoys her time training and competing currently in Obedience, Rally, and Treibball. Odessa is her recent addition to the family and is a Belgian Malinois puppy. Kandis also has a cat named Stripes. Prior to working at Burloak, she worked at boarding kennels and at a breeder for 15 years.
Sabina Kennedy
Sabina is our hospital manager. After graduating from Conestoga College with a business diploma, she found herself wanting to work in an animal clinic. She enjoys the compassion and people that work in our hospital and this has been the main reason Sabina has been with us for more than 12 years.
Sabina lives with a pointer named Dexter and a husky mix named Jenna. Both are full of energy, especially when playing in the river. She and her husband recently welcomed a new baby into their lives in addition to their young daughter. In the past, Sabina has owned a blue and gold macaw and an African grey. Sabina enjoys meeting all of our clients and their furred or feathered family members. Sabina likes to hear about your visit to the clinic and relies on feedback to make the clinic a better place for you and your pets. She hopes to hear from you soon!
Veterinary Technicians
Natasha Brunst, RVT
As a youngster Natasha was always outside, catching frogs, and getting dirty. She grew up in Vancouver and moved out to Oakville with her family when she was a teenager. She first came to Burloak Animal Hospital in 1993 as a client with her 2 cats. She began horse back riding and took up dressage, which is sort of like horse dancing. She entered many shows and later owned her own horse when her family bought a farm in Flamborough. On their farm they had 3 horses, sheep, chickens, ducks, rabbits, cats and 2 dogs (Golden Retriever and Newfoundland). When she wasn't at school she would be outside with her animals and tending to the hay fields with her dad.
One of her earlier summer jobs was at Dyments Farm as a "Milker". Natasha was in charge of their dairy herd of about 60 cattle. She would start bright and early every morning at 5am milking the cows, letting them out to pasture and cleaning the stalls. She would also take care of the many barn cats that roamed around, giving them leftover milk that the calves didn't want. The Dyments ended up selling their herd, but only after they named one of their calves after Natasha!
Natasha graduated from Ridgetown College in 2005 as a Registered Veterinary Technician, and has been with the Burloak family since 2006. She is an anaesthesiologist, radiologist, pharmacist, dental hygienist, and surgery assistant. She is the nurse that cares for your pet from the moment they come through our door. You may not see much of her because she is taking care of your furry family members.
Natasha currently shares her home in Hamilton with her husband, little girl, 5 cats, and a budgie. She is also expecting her second child in Feb 2014.
Jen Grenville
Jen has been with Burloak Animal Hospital since 2002. As a Veterinary Technician, she spends most her time our treatment area, but has been known to wander up front on occasion to greet owners and their pets that walk through our doors. Jen has a special interest in emergency medicine and exotics and has worked with many different species. Monitor lizards were her first large reptile, and she will always have a soft spot for them.
Outside of work, Jen enjoys reading and rock climbing. She and her partner have had many interesting pets, but currently live with George, a pug; Wally, an olde English bulldog; Cleo, the Siamese cat; Jiggs, the red lored amazon; two parrolets; and a python.
Cassandra Court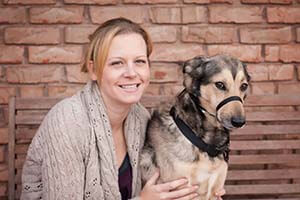 Cassandra graduated in 2004 with her Business Administration Diploma but soon realized that she needed to have more animal experience and interaction in her life. She came to work at Burloak in 2005 as a Veterinary Assistant. Some of her responsibilities include patient care, laboratory work, client education and health care recommendations for our patients. She is always up for a snuggle with any of our patients that come to stay with us for whatever reason.
One of Cassandra's big passions is animal nutrition and for this reason is our "go to" person for many of our staff and clients. She assists all of our clients with their pets' weight loss protocols with great success! She continually is adding to her knowledge with seminars, conferences and online courses.
When not at work Cassandra keeps busy with her daughter and son. She also shares her home and heart with her Golden Retriever Austin, Joey the Burmese cat, a cuddly hamster and 5 pet ducks!
Robin
Robin joined our team in June 2012. She is a grade 12 student in Oakville. Robin loves cats and is always giving some extra TLC to our feline patients.
In her spare time, she loves to read, swim, and dive. Robin can be found at the clinic in the evenings caring for our boarders.
Britney
Britney is one of our Kennel Assistants here at Burloak. She came to us initially as a coop student in the fall of 2013. It wasn't long before she decided to come and work with the Burloak team. She loves working with the different species of pets that come in and hopes that her work experience here will assist her with her goal to become a Registered Veterinary Technician.
When not at Burloak she spends time with her family including two English Bulldogs, Winston and Churchill and Lola the Leopard Gecko. She recently completed a grade 12 Biology credit in Cozumel Mexico where she also volunteered at the local Humane Society.
Jake
Jake is one of the newest team members at Burloak and we are very lucky to have him. He has obtained numerous diplomas in animal care overseas in England as well as courses in animal behaviour and welfare. He worked as an animal care supervisor overseas and has had hands on experience with almost every species of animal. Since his move to Canada in 2012 he has been working at the Oakville Milton Humane Society assisting with the care of the animals that come to the shelter.
Here at Burloak Jake is a Kennel Assistant and cares for our patients that stay with us. He assists the veterinary technicians when needed for things such as holding a patient for sample collections, nail trims, radiographs and the monitoring and treatment adminstration of our hospital patients. Jake has a strong interest in exotic animals and he certainly is in the right place to expand his experience!
Trouble
Hello, my name is Trouble. I am a male Timneh African Grey from...you guessed it, Africa! Please don't confuse me with my cousin the Congo African Grey who is not only larger, but also has bright red tail feathers where as my tail feathers are maroon and much more subdued! I was born in August 2000 and my main job here is greeting and entertaining everyone who walks through the clinic door. I am very curious about the world around me, and I like to watch everyone and everything with an inquisitive eye.
I also like to touch and feel things with my beak...including fingers, so please don't tempt me to take a nibble. Although my speech may not be as good as my cousin the Congo, I can mimic lots of noises and whistles with no problem at all. If you listen closely though you may just hear me say the odd "hello" and "how are you." So if you do just happen to hear me speak, please respond because that's how I learn...don't worry the girls behind the desk won't think you're too crazy for talking to a bird!
Volunteers
From time to time you may see an unfamiliar face around our hospital. We believe that offering volunteer and co-op opportunities to high school and college students reinforces our commitment to our community, as well as offering a unique environment for students to learn and expand their knowledge of the veterinary industry. We also have pre-veterinarians routinely coming in from the University of Guelph to do their required rotations. Some students have come from as far away as University of Melbourne and Germany to help increase their knowledge of exotic animals.