Pet Dental Care: A Customized Approach to a Healthy Smile
Your pet's customized wellness plan will include a dental care assessment. Your pet's dental care is very important to his or her overall health. We are happy to discuss and demonstrate methods to protect your pet against dental disease that you can perform at home. Some of these include regular brushing and specialized dental treats.
During the dental evaluation, we will look for the common signs of dental disease including:
Tartar buildup
Gum health
Loose teeth
Excessive drooling
Please inform us if you notice any symptoms of dental problems in your pet, such as:
Changes in eating habits
Pawing at the face
Depression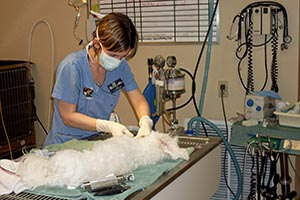 Veterinary Dental Cleaning Services
If a professional pet dental cleaning is recommended based on the dental assessment, this one-day service can be performed by our Veterinary Technicians.
What to Expect at Your Veterinary Dental Visit
We strive to make your pet's dental visit as convenient and worry free as possible. This is what you can expect from the visit:
Clear pricing—A treatment plan will be given for your approval before the dentistry is performed, and convenient payment options are available.
Safety—Your pet's safety is a primary concern. The one-day procedure begins with a wellness exam and blood work to ensure the safety of your pet.
Latest technology—A digital X-ray is taken prior to the procedure to identify any problem areas located below the gum line.
Comfort—To maximize the comfort of your pet, the procedure is performed under general anesthesia. This allows our veterinary staff to achieve a thorough cleaning while minimizing any pain or discomfort.
Skilled and compassionate veterinary staff—One of our highly experienced veterinary technicians will perform the dental cleaning and monitor your pet through the entire procedure including recovery.
Communications—Our staff will call to update you after the procedure and let you know when your pet is ready to go home. Any additional care instructions will also be provided as a convenience.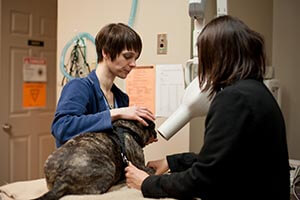 Contact us to schedule an appointment or discuss any questions or concerns you have regarding the procedure.