Welcome New Clients to Burloak Animal Hospital
Burloak Animal Hospital strives to provide knowledgeable and passionate care to our clients. As a new client of our practice, you can expect our full attention to your pet's needs. Our service will be provided with courtesy and respect in a warm and friendly atmosphere.
What to Expect at Your First Visit
We strive to make your visit as comfortable and stress free as possible. When you arrive for your appointment, you will be greeted warmly, and we will usher you into an examination room as soon as we have one available. We respect your time, and our goal is to see all of our clients and patients on schedule. We have contingency plans for emergency cases, and we do our best to minimize delays as much as possible.
First, you will meet with a health consultant who will take a history and gather some data for the doctor. Next, a veterinarian will see you, give your pet a complete wellness exam, answer your questions, and plan further diagnostics or treatment as necessary. Finally, your health consultant will complete the appointment, provide you with further educational information, and answer routine wellness and care questions for you. Normally, the same health consultant will handle billing and schedule any needed follow-up.
We offer a wide variety of wellness packages to best suit your pet's wellness needs and will ensure you understand all of your treatment options and pricing before the service is performed. Our highly skilled veterinarians and staff strive to provide the best possible care for your pet utilizing the latest in medical technology.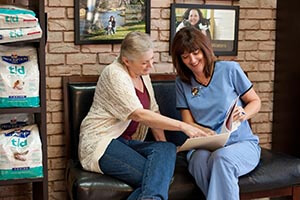 Welcome Registration Form
Prior to your first visit, please fill out our welcome registration form at your convenience and bring it with you to your first appointment.
We are excited to meet you and your pet companions! Please contact us if you have a specific concern or question regarding your pet, our office, or the services we can provide.