Advanced Medical Setting for Specialized Pet Care
Burloak Animal Hospital strives to provide excellence in veterinary services and compassionate care for your pet. Our advanced medical setting and highly trained veterinary team offer digital X-rays and onsite lab diagnostics to provide fast and accurate diagnosis of your pet's condition, which leads to early detection of medical conditions and ensures the best treatment options and outcome.
Digital X-rays
Digital X-rays provide clear, two-dimensional, still images that are captured digitally instead of on film by emitting a very low level of radiation. Digital X-rays are fast, painless, and safe for dogs, cats, and pocket pets. It is ideal for viewing the following: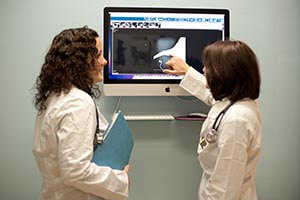 Musculoskeletal system—Bones and joints
Gastrointestinal tract—Stomach, intestines, and colon
Respiratory tract—Lungs and heart
Genitourinary system—Bladder and prostate
Lab Diagnostics
We are proud to offer onsite laboratory diagnostic testing. Laboratory testing during a wellness visit allows for baseline information to be collected. This baseline information is valuable when you have a health concern with your pet and allows for accurate and rapid diagnosis. Most laboratory tests can be evaluated while you wait. Common laboratory tests include:
Complete blood count
Urinalysis
Blood chemistry panel
Heartworm & Tick Disease Testing
Fecal examination
Allergy testing
Tick Analysis
Bloodwork is available and is done both on and off-site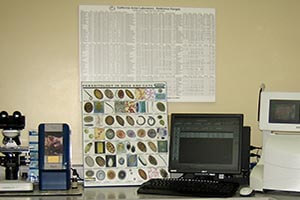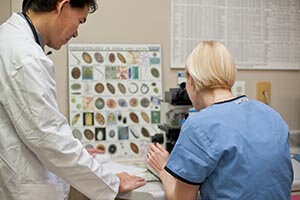 Ultrasound
In the event that an ultrasound is recommended, Burloak Animal Hospital has a partnership with a specialist who can be called in to the hospital to perform the service for your convenience.
Contact us to schedule an appointment or discuss any questions or concerns you have regarding the procedure.